Main content starts here, tab to start navigating
About Us
Mill's Diner is a cozy/casual restaurant and diner in Rochester, WA.
We look forward to hosting you soon!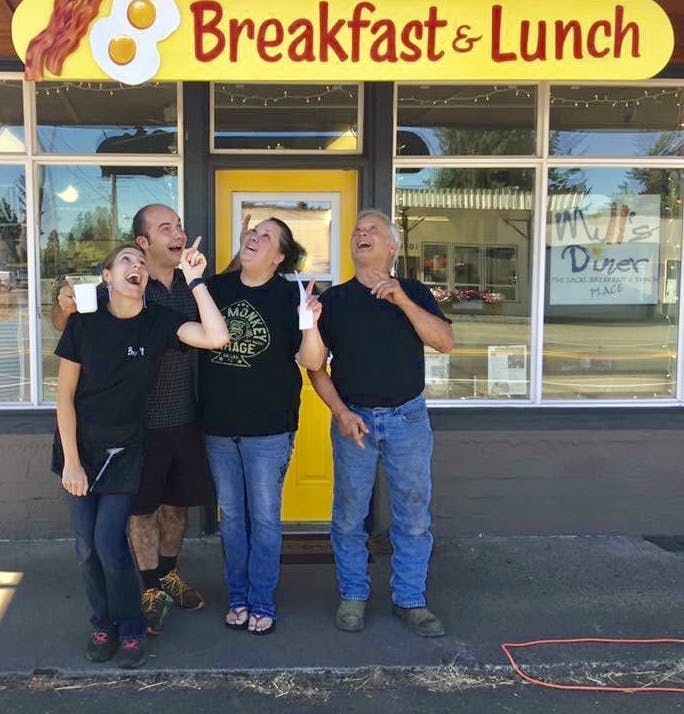 About Kevin
Kevin was born in Manitoba, Canada, but spent most of his childhood growing up in the States before moving back to Manitoba in his early teens. As a young adult Kevin had a distinct voice that landed him a job in radio and a career as a solo artist at age 18. He also had an uncanny proclivity towards entrepreneurship and by age 13, started a bee business in Manitoba, Canada.
About Amanda
Amanda was born and raised in Manitoba where she too was very ambitious. She grabbed any and every opportunity to make her own money even before she was old enough to get a 'real' job.
Starting at $2/hr she would babysit for her neighbors. When she finally reached the age of 15, she drew up her first resume and got a job doing dishes on the weekends. This was the beginning of a passionate relationship with the restaurant industry as she eagerly worked her way up and learned every job within it. She had no desire at the time to be self-employed, but when the owners of the long-standing business decided to retire she was forced to make a decision.
Longstanding customers suggested that if she opened a restaurant they would follow. Thankfully she didn't know how difficult it would be and went ahead and opened her first restaurant at age 22. Although incredibly challenging, she reached unprecedented success after only being open one year. She simply loved people and loved creating a warm, welcoming, and fun environment for both her team and her patrons. Her life became even more enriched when Kevin and his dad Gene Mills walked in and invited her to join them at their table.
Opening Mill's Diner
Kevin and Amanda clicked instantly and were married the following year. They decided to sell the restaurant, their home, and most of their belongings and head to Virginia where they stayed for several years. While there, Kevin received an opportunity to sing bass full time with a quartet out of Puyallup, WA. Since flying back and forth wasn't financially feasible, they packed up their belongings again along with their then 1 year old daughter into a 28 foot fifth-wheel, traveled to the other side of the country, and ended up parking their unit on a friend's property in Rochester, WA in the early part of 2015.
In late 2016 and with now 2 young children and cat packed into a travel trailer, they began looking at other occupations that wouldn't keep Kevin on the road so much as well as having a place that had a hot water tank that could hold more than 5 min of hot water. They found a restaurant for sale in Rochester (formerly Highway 12 Diner) and the passion for hospitality was immediately reignited within Amanda and, as a bonus, an apartment was available right above it. Simultaneously, Kevin was rekindling his favorite pastime of beekeeping by purchasing 2 hives just as a 'hobby'. Long story short, both of their passions turned into businesses in 2017; Mills Diner and Hive5Bees.
Although they cross over and help out the others' business when needed, the bees are Kevin's area of expertise and the restaurant is Amanda's. Their favorite part of their businesses is serving people and they continue to look for new and creative ways to bring value to their family, friends, and the community as a whole.